NOME is pleased to present Electrify Everything, a solo exhibition of new works by the Dutch artist Marjolijn Dijkman. Dijkman's multi-disciplinary, research based practice is concerned with residues of enlightenment ideology, manifestations of collective memory, and the blind spots of representation. Through their entanglement of different temporalities and geographies, her works propose alternate narratives and knowledge systems.
Electrify Everything brings together three inter-related bodies of work that draw upon the artist's research into the history of electricity and the environmental impact of contemporary energy storage. The immersive film Depth of Discharge translates the seductive, captivating magic of 18th century enlightenment demonstrations into an abstract exploration of the roots of the nine different units used to measure electricity. The works in the sculptural series Cloud to Ground refer to fulgurites, a phenomenon commonly referred to as "fossilized lightning." Formed when electricity discharges into the ground, these formations comprise masses of vitrified organic debris. Made in collaboration with an electro-technician, Dijkman created artificial fulgurites by discharging electricity into earth collected from mining sites in Belgium and the Democratic Republic of Congo, which she then suspended in resin pyramids.
Her photo series Earthing Discharge depicts items associated with technology and energy use, including lithium, coal, circuit boards, and personal devices. Both Earthing Discharge and the film Depth of Discharge are made with a high voltage electro-photography technique in which the artist uses a discharge plate made from a tin-coated sheet, the same material as used in touch screen devices. By making microscopic electric interactions visible, electricity becomes an actor in Dijkman's recent works, adopting an almost animistic character.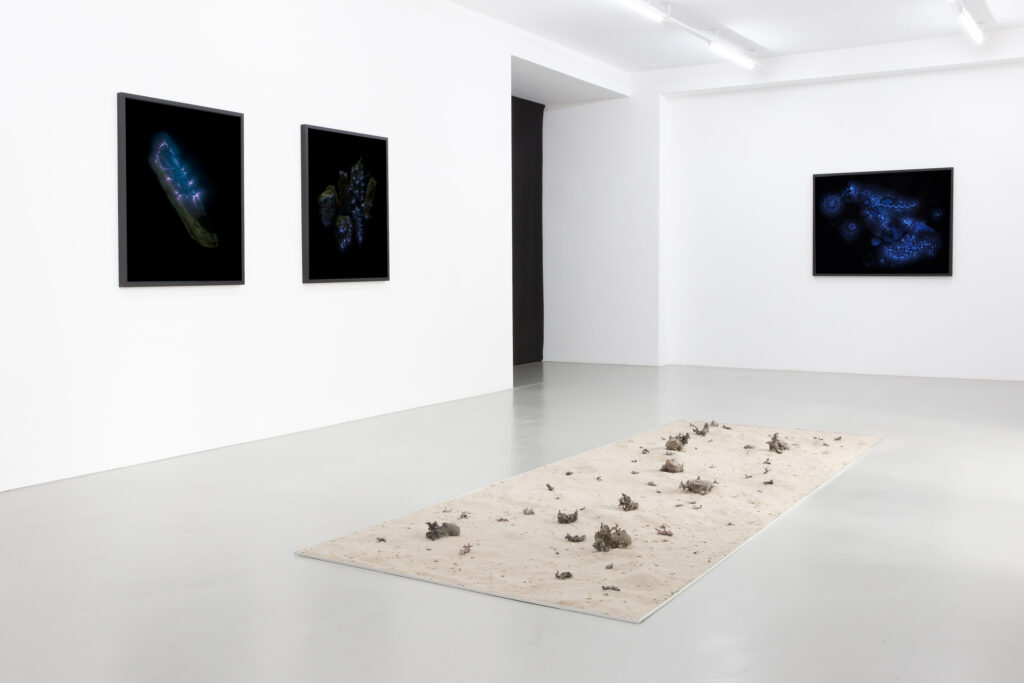 "Depth of Discharge is viewed in a black box, the projection is the only form of light and delivers sequences of energetic interactions, which create a visual spectacle in thousands of shades of monochromatic blue. The frequency of the sound and image create a mesmerizing experience, giving the feeling that both the frequencies of the brain and the film are synchronized into one. The scientific use of the term Depth of Discharge is associated with the life of a battery. The life of the battery is measured by its ability to recharge.
Depth of Discharge was created by high voltage photography where the electricity and electrified objects became the protagonists and the discharge the drama. In Dijkman's black out studio, she documents a process of Corona Discharge, which creates a glowing aura caused by ionization and an electrical disturbance caused by contact with air. The discharge is captured through a touch screen, which originates from smartphones and other flatscreens. The film depicts modern empires based on minerals' energy economies. The symbols in the film are taken from a table of standard electrical units and reveal the metaphors associated with utopia and electrical dystopia. Concepts related to the electric sign language indicate the ideals that the symbols represent beyond their technical meaning."
- fragment The Lightnings Slayers  by Galit Eilat, 2021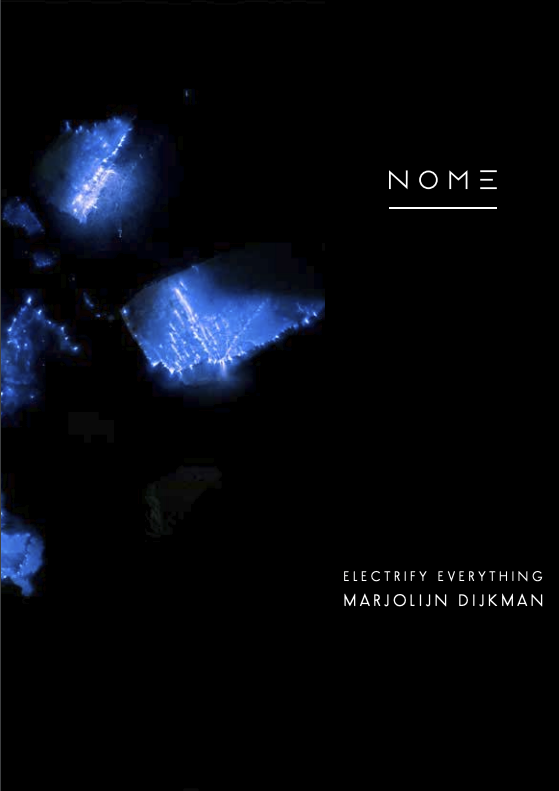 ELECTRIFY EVERYTHING
Marjolijn Dijkman
Essay by Galit Eilat
Creative Direction: 515 Creative Shop
Design: Matteo Barbeni
Text edit: Jesi Khadivi
Photography: Billie Clarken
This book was published on the occasion of Marjolijn Dijkman's solo exhibition Electrify Everything at NOME, Berlin, from 11 September to 30 October 2021.
NOME
Director: Luca Barbeni
Gallery Manager: Olga Boiocchi
Sales Associate: Jesi Khadivi
Exhibition set-up: Nino Caltabiano
Special thanks to: Brogen Berwick, Pom Bouvier-b., Marie Couelle, Galit Eilat, Léo Ghysels, Bas Helbers, Emanuela Laudati, Constance Nguyen, On-Trade-Off, Lukas Pol, Gilles Ribero, Daniela Silvestrin, Miléna Trivier, Maarten Vanden Eynde, Inneke Van Waeyenberghe.
With the support of Stiftung Kunstfonds and NEUSTART KULTURProgramm, Mondriaan Foundation (Amsterdam, NL), and FLACC (Genk, BE).
Free edition